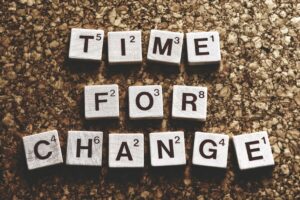 Once the Temple fall-out settled down (see part 1) somewhat, I knew what I had to do: speak up. I needed to find a way to use all of the negative events that happened to try to help others. For the most part, I've been anonymous in my advocacy as I work up the nerve to put my name and face front and center for the cause. I think it's important for people to know that the registry insanity is touching real people with real lives, not the "monsters" they envision.
Where do I fit in and how can I help the most? These are questions that I'm still grappling with as I look for my role. I'll share what I've done since October.
I created a website called endtheregistry.com. My goal was to provide a site that wouldn't duplicate what's already out there. I kept it simple with a section that links to other resources. I also wanted a safe space for people to create a virtual community without the judging and harshness that we typically face on social media. I'd appreciate any suggestions for how to get people to use it!
I started tweeting as @endtheregistry and expanded my knowledge of the need for criminal justice reform in general, even beyond registry issues. It's amazing how many books, documentaries, and speakers are available for someone willing to make the effort and I'm absorbing them as quickly as I can.
My state of Connecticut is looking at registry reform. A few months ago, the Connecticut Sentencing Commission held a symposium with speakers who are experts in the field. I was asked to speak about my experiences as a registrant. After giving it some thought, I agreed and felt like I was finally going to be doing something positive.
Almost as quickly as I was invited to speak, I was uninvited. The conference was being held at the University of Connecticut Law School and the school didn't want anyone who had committed a sexual offense to speak. On the day of the event, the Dean of the law school explained to the audience that he had actually given thought regarding whether or not to hold the conference because he was afraid it would trigger students. How are we supposed to end the cycle punishment based on misinformation if our future lawyers and judges can't attend a learning event with speakers who are experts in research and treatment?
Earlier this month, I joined several others in providing testimony at a Connecticut Judiciary Committee Hearing on a bill related to registry reform.  It was the first time I had ever done anything like that. I was one of the first members of the public to speak in an all-day meeting. I know that my voice was important as one of the state representatives quoted portions of my testimony a few times later in the day.
Last weekend, I attended a restorative justice conference that emphasized healing from offenses with a sexual component. In contrast to the symposium, this event had participants who had caused sexual harm and those who had been sexually harmed coming together for discussions and healing. Sometimes the person who had caused harm had also been abused at some point and everyone in attendance seemed to recognize that we have a shared humanity. The conference was encouraging because it demonstrated that there are brave people who are working on identifying a better way than our current system of endless, harsh punishment.
My advocacy work is just getting started and I'm learning more every day. It was an honor to be interviewed by Michael McKay, Dwayne Daughtry and Shawna Baldwin which you can listen to here.
I've learned that there's a massive gap in understanding by the general public between perceptions and reality with regard to who is on the registry and what life is like on the registry. The more we can educate ourselves and then share our stories with others, the more likely we'll be to finally make positive change.  I hope I can inspire others to join me in stepping forward and sharing our stories. We can help make change with one positive relationship at a time.