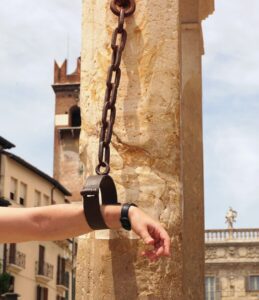 Without a doubt, it was not as bad for me as it could have been. I never spent a day in prison. I successfully completed five years of probation with no violations. I've heard horror stories about mandated group treatment programs, but my experience with a group wasn't so bad. I came off the registry after ten years. Well, really, twelve if you count the two years of limbo between my arrest and conviction. And recently. I was granted a pardon by the government entity that convicted me. So, the punishment is over, right? Not at all.
You see, that's the thing about registries.  Once you're on one, even for a short period of time, it's a life sentence. In the past decade, how many people searched the registry website and have seen my picture? How many of them recognized me and then went on to tell someone else?  How many screen scraping software programs picked up my image, my street address, and my height and declared to the world that I was someone to fear and referred to me as a sex offender?
While the registry did nothing to protect, it certainly did damage in a multitude of big and small ways. The minor inconveniences included not having garage sales, turning off the lights on Halloween, and wondering if the neighbors resented me bringing down their house values.  Medium level concerns were losing potentially good employees who freaked out when they learned I was a registrant. And still greater issues included the moral panic that broke out in my community while I was President of my synagogue, my wife being pushed off volunteer opportunities, having limited career options and having life insurance denied. The largest consequence of all was the added stress of never knowing when something bad might happen – like being targeted by a vigilante or being subject to a new law that would prohibit my movement. As a part of the "all except for" group, I became a second-class citizen with lowered expectations for the joys in life.
From an employment standpoint, I'm free to pursue my dreams with no barriers now that I have the pardon. But guess what? I recently analyzed my pay trend before my arrest and after. From a salary perspective, the cost hit was about $1.8 million. I'm still on a lower trend line and I can't just jump back up to the higher one, so the gap between "what if I hadn't been arrested" and reality continues to grow.
I can't undo the embarrassment that I faced. More importantly, I can't undo the shame that my daughters felt while they were in school, my parents encountered with their friends or my wife dealt with as the partner of a monster. With my daughters grown, they can't get back all of the milestones I missed not being permitted on their school grounds. That time is gone.
The State's response to the damage that I caused was to inflict great harm on me. I took responsibility for my actions and there's no question that I should have been held accountable. I'm a firm believer that accountability is very important. However, that accountability could have come in a way that would have allowed me to preserve more of my dignity and my career without inflicting pain and suffering on my family.
Although I now have a clean record and legislative changes wouldn't impact me directly, I'm going to continue advocating for them anyway. Registries, residency and proximity restrictions, and civil commitment regulations need to be abolished as they are ineffective and inhumane.
When does the punishment end? For me, never. But we can and must do better for the next generation.